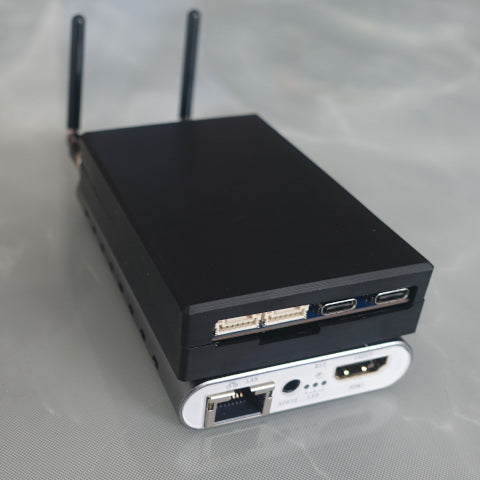 Sky Drone Link 3
$2,49900 USD

$2,499.00 USD
---
---
4G/LTE/5G Connectivity for Drones
Sky Drone Link 3 is an end-to-end encrypted low latency transmission system for drones utilizing 4G/LTE or 5G networks. It provides an unlimited-range command & control as well as UHD/4k resolution video-link via HDMI interface. Using the 5G mobile network you can benefit from higher bandwidth, lower latency and better Quality of Service (QoS) options of that new network technology.
Digital Ultra High Definition Video
Sky Drone Link 3 supports HDMI camera input with  UHD 4k / 2160p.
Gimbal Control / Flight Controller Link
Besides the video link, Sky Drone Link 3 provides a bidirectional data link between your drone and your Ground Control Station. This can be used to visualized telemetry data and/or control the drone. The MAVLink protocol according to Dronecode standard via JST-GH connector is supported out of the box. Proprietary protocols are transmitted as well. Many gimbals can be controlled using the MAVLink protocol and Sky Drone Link 3 can act as a virtual connection to the gimbal. This functionality is entirely optional.
Unlimited Range
By using existing cellular networks, the Sky Drone Link system provides you with virtually unlimited range. The only requirement is cell tower coverage. The system is optimized for 4G / LTE and 5G networks to provide best video quality and lowest latency but can also fall back to 3G networks. It adapts to varying signal and bandwidth conditions by automatically adjusting video parameters without interrupting the stream.
Low latency
By using our own highly optimized video processing pipeline, the system is designed for lowest latency video from scratch. The typical end-to-end latency is less than 350ms depending on the camera used.
Groundstation Software
The groundstation client to receive video from the Sky Drone Link 3 unit runs on Windows and Linux with version for MacOS, Android and iOS in the pipeline.
Security
The video stream, command&control channel and meta data are fully end-to-end encrypted making it impossible for third parties to eavesdrop the transmission or interfere with it. Rather than reinventing the wheel, we rely on open and proven standards including Datagram Transport Layer Security (DTLS) and Secure Real-Time Protocol (SRTP) using AES256.
How it works
Video only:

Video & Gimbal- or Flightcontroller Link:
Note: Gimbal Control Software not included, as it depends on the specific gimbal system.
Technical Specification
Weight:

228g incl. encoder and cables

Power Input:

5V@2A (max. power voltage 28V 6S) + 5V@2A (encoder)

Supported HDMI Inputs Formats:

3840x2160@30p, 1920x1080@60p, 1920x1080/50p,1920x108060i, 1920x1080/50i,  1920x1080/30p, 1920x1080/30i, 1280x720@60p, 1280x720@/50p, 1280x720@/30p, 720x576i, 720x480i


Antenna:

dual external antenna included

Typical End-to-End Latency:

<350ms

Typical Data Consumption on 4G/LTE:

10 minutes of streaming consumes:
UHD / 4K at 20mbit/s: 1500MB
Full HD at 6mbit/s: 450MB
HD at 2mbit/s: 150MB

Cellular Network Technology:

4G Version: LTE Advanced Pro

5G Version: Multi-Band 5G NR/LTE-FDD/LTE-TDD/HSPA+
5G SA (standalone) and 5G NSA (non-standalone)


Supported Frequency Bands of 4G/LTE Version:    
B1, B2, B3, B4, B5, B7, B8, B9, B12, B13, B18, B19, B20, B26, B28, B29, B30, B32, B41, B42, B43, B46, B48, B66

3G fallback supported
Supported Frequency Bands of 5G Version:    

 

Sub-6G: n1, n2, n3, n5, n7, n8, n12, n20, n28, n38, n40, n41, n48, n66, n71, n77, n78, n79

LTE-FDD: B1, B2, B3, B4, B5, B7, B8, B12, B13, B14, B17, B18, B19, B20, B25, B26, B28, B29, B30, B32, B66, B71

LTE-TDD: B34, B38, B39, B40, B41, B42, B43, B48

LAA: B46

WCDMA: B1, B2, B3, B4, B5, B8

3G, 4G fallback supported

Public Safety Networks (4G Version):     
public safety LTE networks in Europe (B20, B28)
(contact us if you need FirstNet™ support)
Private LTE Networks (4G Version):     
3.5GHz local private networks (CBRS band)

Carrier Certifications (4G Version):     
AT&T, Verizon

Certification in progress: Bell, docomo, KDDI, Rogers, Softbank, Telstra, Telus
Compatibility and Requirements
UAV / Drone
Modes:

Video transmission only:
Any UAV / drone that can carry the module weight

Gimbal Control / Flight Controller Link (optional):
A gimbal controller or flight controller that uses a serial  UART based interface.

Command & Control Autopilot:

MAVLink based flight stacks like PX4 and Ardupilot on any flight controller (e.g. Pixhawk 4, The Cube, Pixracer, ...)
Dronecode standard JST-GH connector cable provided; easily connects to Pixhawk 4, Cube, etc.
Any flight controller with serial/UART interface and a groundstation that can interface via TCP

Command & Control Protocols:
MAVLink or any
custom protocol in raw-mode
Groundstation Software

Sky Drone FPV Client Software
Computer:

Minimum: Intel i5, 8 GB RAM
Recommended: Intel i7, 8 GB RAM, dedicated graphics card.

Operating System:

Windows 7/8/10
Linux: Ubuntu 14.04 or newer
MacOS (soon)
Android (soon)
iOS (soon)